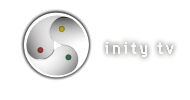 I love this week's creation!
I've been wanting to cancel my cable for a veeeeery long time.I always feel like I'm being ripped off 'cause there's so much good content online for free. Why am I paying for both? It's so expensive, but when you just want to relax for an hour and put something on, it's so very convenient.
Well, I've taken the time to scour the interwebs and find all the goodness of tv land, and put it all together in one place so you can essentially channel surf through the video pages of tv network websites! It's called InityTV.
The main thing I've never liked about watching TV online is that it's so hard to find the various networks or programs you want without having to do a bunch of Google searches. Here's a way to watch TV online for free, from an aggregate of your favorite networks video websites! Inity TV is sort of like a search engine like Google, or a discovery site like Digg, but focused solely on cable channels that are providing full episodes of their shows online for all to watch. It's sort of like a free Netflix!
There's still some bugs to work out. I plan to change the channel navigation to a smoother and less obtrusive design. Maybe a few other things too. Please test it out and let me know how to make it better.
And if you like it and find it useful, please SHARE IT!!