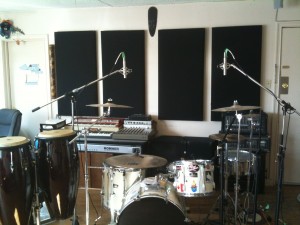 (Update: Click here for the full diy sound panel tutorial, or visit InityAcoustics.com for professionally made panels)
For week 12 I took on a little DIY project building sound absorption acoustical panels for the studio. Now, just two weeks later, I have a budding business making these panels for others! And the best part is, I started by borrowing small (really small) amounts of cash and tools. Let me tell ya how it came together.
The Motivation
When it all started I was essentially broke. Glenn was coming in to record some acoustic stuff. He's a great player, and I really wanted to make sure we got the best sound possible.  I didn't have the sound panels I'd want for this, so I had to solve this problem. I think the best business ideas come out of solving a problem you have, and then providing your solution as a product or service to others. But at the time I wasn't thinking about business, I was thinking about making a great sounding recording. Plus, I knew the panels would be a great Weekly Creations post. Sticking to this site is definitely great for keeping me motivated to take on and complete projects I might otherwise procrastinate on.
I did a little research into these sound absorption panels. Over the years of focusing on music I've also worked a handful of different jobs to make ends meet. One place I worked at several times is a place called Hammerhill Sound Systems where we built sub-woofer cabinets for car stereos. With this cabinet making experience the wood working part of these panels would be like second-nature.
So I decided to make some. I'm still planning to write a tutorial post on making these panels, but this post is about making a business out of them, so the tutorial post will have to wait for now.
Low Budget
Anyway, after a rough year and a particularly slow month, I was broke. But I knew I could make the panels for about $20 a piece, and that Glenn's studio booking would bring in a couple bucks. So I borrowed $40 to get the materials for two panels. Well, I didn't realize that (of course) some of my materials would have to be bought in higher quantities. So I managed to scrap together about $20 in change, and took out the last $20 I had in the bank. The ATM fees put me into overdraft.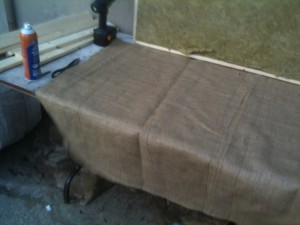 The framing lumber, sound insulation materials and adhesives took up my $80, and I still needed fabric. So I borrowed another $20 and a bus pass and headed down to the fabric store to get some burlap to wrap around the panels. Then I borrowed a jigsaw from a buddy who lives down the street and made my first few panels that night in the parking lot behind my place – finishing up in the dark.
To be honest, those first ones sort of looked like they were made in the dark with a handheld jigsaw. But I was quite pleased when I used them to record Glenn and I realized just how much of a difference they made. The money from Glenn's booking went to pay back the borrowed cash.
Test The Market
Still in need of some cash, the following Monday night I decided to post an ad on Craigslist and Kijiji for the panels I had made, just to see if anyone would be interested. You never know unless you try, right? I made sure I had all my stats about the NRC (noise reduction coefficient) in order and I added a link to the clean sounding recording of Glenn. Other manufacturers charge a minimum of $80 for similar panels, so I priced mine well below them at $60 each or $200 for a set of 4 (despite only having 3 made). Then I went to bed.
The next day I got a call from a marketing professional in Toronto who recently moved into an exceptionally reverberant downtown office. After finding out that I had made the panels personally, he offered to connect me with his custom printed fabric links and potential add my panels to the line of custom printed fabric products he sells online! He asked me to bring in a sample the following evening. I thought to myself "maybe I should make a good one, in daylight, for this guy".
So I looked up pricing on mitre saws, found one on sale for 70% off at Canadian Tire, borrowed another $80 and made a single, higher quality panel; reusing the fabric from one of the old panels. He loved the panel (except for the beige burlap fabric) and we discussed testing his printed fabrics for their acoustic properties. Being an audio engineer helps with that side of things. Testing changes in what frequencies are reflected and to what degree is easy enough in the studio.
Improved Design, And Busting My Ass
While waiting for the fabric samples, my tax return finally showed up! This was enough to clean up some bills, pay back the borrowed cash and have a couple hundred bucks left over. Couldn't be better timing, because that same day I got an order for four panels. So I raced to build some more of higher quality, improving on the design and spending that cash on better fabrics and hardware.
I filled that order and used some new pics of improved panels in a new ad. Then more calls came in. And then even more. And I continued to test fabrics and fill orders. I recently filled an order for a film company to use in one of their video editing suites. I busted my ass to add better fabrics to my existing panels in time to show them when they came by to check out what I had the morning after they called. They loved the ones they picked up, and texted me before the weekend to let me know they'd be calling back next week to get more for their other editing suites!
End Result
So in a couple weeks of low-cost testing and improvements, free online ads, word of mouth, a couple favors, and busting my ass a bit, I've managed to help out a bunch of people and create a new income stream for myself! It's still very small, but it's already profitable and adding a little extra cash to my (formerly overdraft) bank account.
This is the first Weekly Creation that has turned into a viable income stream. The Weekly Creations site certainly isn't about money-making creations in particular, but it's definitely nice for one of the projects to turn into something that serve those ends. As I said before, I credit this to two things; a website that motivates me to create and not procrastinate, and the idea of using your skills to solve a simple problem for yourself and then offering to provide that solution for others. It's easy to connect with and serve customers when you consider yourself one of them.
Who'd have thought that after years of focusing on making a living from making noise, I'd end up making some extra money from reducing noise too. 😀