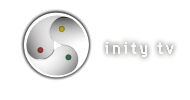 Two weeks ago I posted about Inity TV for week 5's creation. This past week I've updated the site with a new design and 15 new channels, including some of my personal favorites like Discovery, Comedy, A&E, Spike and TSN and bringing the total channel count to 52!
New Design
Earlier this week I launched the new design. I personally have a widescreen monitor, but after hearing from others who don't and trying out InityTV.com on my laptop, I found that the channel selector on the side didn't work well for most users because it always had to be manually opened and closed. I resolved this issue by having the channel menu slide up from a bar along the bottom, and then slide out of the way again when you click on the next channel you'd like to view.
I also added some nicer looking graphic design. The old look was bland – just something to get by. I like the feel of the new look. Here's a side-by-side comparison:
 15 New Channels – 52 Total
Wooohooo! New channels are always good! I wanted to put these ones in from the beginning but they don't load within the Inity frame, so I had to devise some solutions. The only option for the time being is to have them come up as a pop-up video player window. I was hoping to avoid that, but it's the only choice for now.
The new channels are amongst the best on the site! Here's a list of all the InityTV channels.
General
CTV
CBC
Global Television
TVO
City TV
TV Tropolis
APTN
Canoe TV
Comedy
Music
Much Music
MTV Canada
MTV2
Aux
BET
CMT
Juicebox
Kids
Treehouse
Disney XD
Teletoon
YTV
Family
Education
History Television
Food Network
HGTV
TED
Discovery
Space
Documentary
A&E
Bravo
Biography
National Geographic Channel
Nat Geo Wild
Late Night
Movies
Sports
TSN
Sportsnet
NHL
Toronto FC
News
CTV News
Sun News
Global News
CPAC
The Weather Network
C-SPAN
BNN
Specialty
Fashion Television
Out TV
Slice
Grace TV
Hope you enjoy the updated InityTV.com!